The Department of Homeland Security (DHS) requires foreign nationals to gain proper legal entry, along with proper registration to legally work in America,  Validating one's legal entry and the certifiable status of all workers is the responsibility of Employers and the individuals themselves.  Therefore, the federal government has set up the "E-Verify" website to make this validation process efficient, easy to use, and as timely as possible, for all parties concerned, both Employers and Individuals.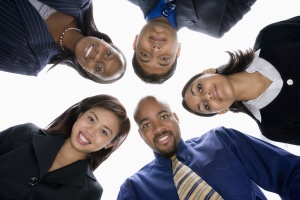 Authorized to manage "E-Verify" is the United States Citizenship and Immigration Services (USCIS), which is part of DHS.  From the website located at I-9 Link, one can find all the information they need to meet statutory compliance and to complete the worker certification process.  In summary, it states "U.S. law requires companies to employ only individuals who may legally work in the United States – either U.S. citizens, or foreign citizens, who have the necessary authorization.  E-Verify is an Internet-based system that allows businesses to determine the eligibility of their employees to work in the United States.  E-Verify is fast, free and easy to use – and it's the best way that employers can ensure a legal workforce."
Related to the E-Verify process is the required completion of the Form I-9, by all Employers.  Proof of identity requires the Employer to obtain precise USCIS approved documentation to validate one's identity.  There is also a 3-Day timeliness rule to complete certain I-9 instructions, which are the key characteristics every Employer must know, understand, and adopt into their hiring process.  The worker 1)  Identity and 2) Employment Authorization for each new employee (both citizen and non-citizen), is mandated for all hired individuals after November 6, 1986, to work in America.
Form I-9 can be viewed, printed, or copied in the PDF document at http://www.uscis.gov/files/form/I-9.pdf.  Finally, part of the E-Verify  process is the related partnership with the Social Security Administration (SSA) to cross-check the supplied worker information.  All the data must be confirmed to proceed and gain necessary government approvals.  In the end, E-Verify allows participating employers and E-Verify employer agents to electronically verify the employment eligibility of each newly hired employee and/or an employee assigned to a federal contract.  This entire process, and all the requirements of the I-9 submission, is required of all employers, regardless of size.
Our company is an approved USCIS Employer Agent.  As your seamless and valued partner, "The Accu-Facts Company" can submit and handle your entire E-Verify and I-9 process.  To help you navigate and meet these USCIS challenges on each new hire, we can also maintain the completed I-9 forms.  Contact our office today to get started.