It is every employer's responsibility to screen applicants for criminal records and history of unsavory behavior. After all, one must exercise due diligence to ensure the safety of existing personnel. However, there is a thing called overstepping the bounds of privacy.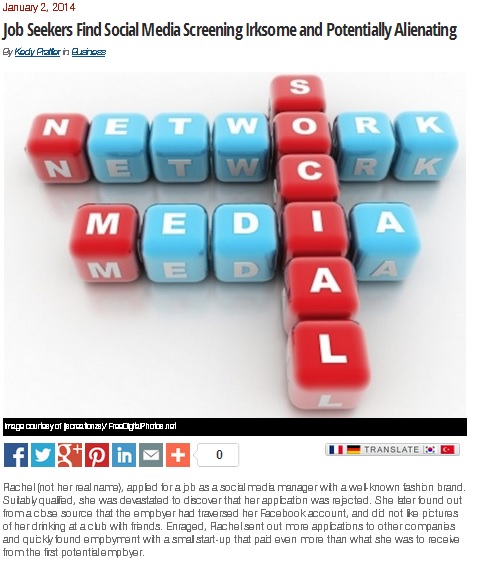 In some instances, some employers use applicants' social media accounts when performing a background check. In a recent article for SiteProNews, guest blogger Kedy Prattler shares new findings on the consequences of pervasive social media screening:
"Researchers from North Carolina State University have discovered companies that rely on an interviewee's social media profiles during the hiring process may potentially alienate highly-qualified candidates. As part of the study, 175 participants were told their prospective employers had screened their Facebook accounts. Two-thirds of them expressed annoyance, indicating they now viewed the potential employers as less appealing and may seek employment elsewhere.

In a second study, six out of 10 job candidates said they felt their privacy had been violated when potential bosses screened their social media profiles. They said they should not be discriminated against based on their public profiles."
Clearly, employers need effective employment background screening services that produce highly satisfactory results without alienating qualified applicants who just happen to also be active social media users. So, some states have already passed laws to disallow this practice, while employers can no longer ask for "passwords" nor seek authority to conduct such reviews, in the hiring phase. The customary and usual background screening services may include a thorough public records search and other position related inquiries, into an applicant's education and previous employment history, for example. These and all similar screening tasks need to be done in accordance with HR best practices, under federal FCRA guidelines with an authentic and signed Release Form, and activities must meet the local state laws, to ensure the protection of privacy for all parties involved and that meet the test of compliance.
While social media screening may be helpful to some extent, employers nonetheless have to be careful when it comes to this background screening method. A reputable employment screening service provider, such as The Accu-Facts Company, provides a suite of professional services to meet the recruitment needs of various industries, categories of jobs, and positions that need mandatory tasks conducted to qualify for the job up front.
(Article Information and Image from Job Seekers Find Social Media Screening Irksome and Potentially Alienating, SiteProNews, 2 January 2014)