Just like auto insurance companies, it is pertinent for trucking companies to thoroughly look into a person's driving record when hiring drivers. This is one lesson a trucking company in Victoria, Texas learned recently. A year after a serious road accident caused by the trucking company's driver, who was reported to be driving while intoxicated, the business was ordered to pay a settlement of $9.5 million by a Victoria District Court.
"Calvin Stovall, 44, of Victoria, sued the companies and one of its truck drivers, Johnny Raymond Rodriguez, after Rodriguez rear ended him March 24, 2012, at the U.S. 59 and Upper Mission Valley Road intersection. The case is filed as Case Number 12-7-73376-D, in Victoria County District Court (Texas), now a public record."
What's truly noteworthy in this case was that the driver was revealed to have prior DWI convictions before the said incident. The trucking company insisted that they did perform a background check on the driver during the pre-employment screening process, but the results did not reveal anything unusual. A thorough public records search could have helped the trucking business in this case, something that other businesses should take note of for their firm and their own protection.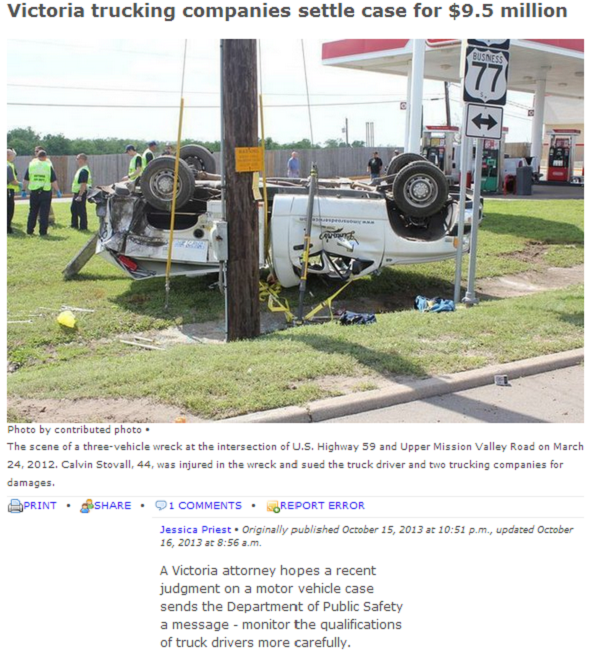 Driving records, for related traffic and criminal type filings, would fall under the category of public records, if they are in fact filed cases within the court system….! Otherwise, a person's authentic driving history record is available only under the terms of a properly signed Release for Authorization and while following FCRA guidelines. Public records also include all sorts of matters: deeds, mortgages, and other property records; criminal records; and sex offender records, for example. Typically, driving records include details on a person's traffic tickets, as well as any involvement in accidents. In addition, driving records also contain major violations like DWI, Reckless Driving and sometimes people are designated as "Habitual Offenders", because they have so many vehicle code violations filed against them.
Even if trucking business owners did not have prior knowledge about an employee's previous brushes with the law, they can still be held liable for a road accident under employer negligence policies or under vicarious liability type circumstances too. Any company who hires a worker for driving duties is obligated to ensure that the said worker is a responsible driver who won't put other motorists in danger, by his or her actions or previous bad driving history. Business owners or managers who are unfamiliar with the methods to conduct a comprehensive record search can rely on a public record search service like The Accu-Facts Company.
Owners of trucking companies, or any other similar business using drivers, have an obligation to hire not only skillful and well-trained drivers, but drivers free of major traffic violations as well. By doing this, they can reduce the risks of road accidents due to the driver's error or negligence, while they have mitigated their liability concerns with the utmost due diligence.
(Source: Victoria trucking companies settle case for $9.5 million, Victoriaadvocate.com, Otober 16, 2013)