Given the wave of crimes against children in school within the past several years, recent efforts in Delaware to curb and prevent these incidents are nothing short of timely. NewsWorks reporter Nichelle Polston reports on the formation of the multidisciplinary Delaware Criminal Background and Child Protection Registry Checks Task Force. It seeks to further strengthen the state's existing background check systems, specifically for adults who come in close (and often unsupervised) contact with children.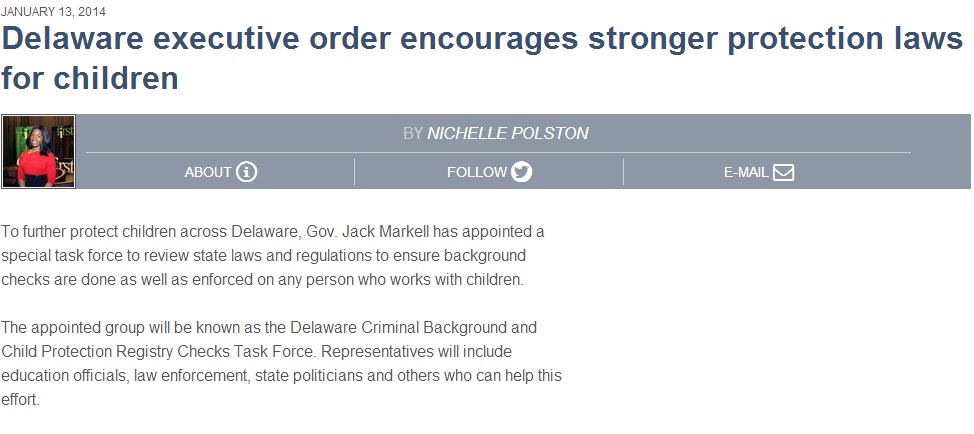 "The task force has to the end of the year to submit its recommendations to the Governor and the General Assembly. During the process, members are expected to examine whether criminal background and child protection checks should be required for employees and volunteers at private and non-state operated schools, or temporary school employees and camp volunteers. It'll also be discussed if a consolidated background check system, to include criminal, child protection, sex offender and adult abuse registry is necessary."
Schools and daycare centers, in particular, can't afford to be complacent when it comes to ensuring the safety of the young children under their care. Yet, regardless of industry, any employer should find a thorough public records search helpful when conducting due diligence during the applicant screening process, while all Vendors, Volunteers and Parents involved with school events, should also be scrutinized prior to granting uninhibited school access.
After all, employers and institutions have to protect themselves, their existing personnel, and their stakeholders, from possible instances of fraud or falsification. Otherwise, administrators can only be held accountable for the failure to conduct the appropriate background checks up front or on an annual basis. Companies, like institutions of any size or any industry, can count on a background screening expert such as "The Accu-Facts Company" for quality public record search services nationwide. Facts show screening after the fact of an incident is clearly too late…..!
(Article Information and Image from Delaware executive order encourages stronger protection laws for children, NewsWorks, 13 January 2014)